Outstanding Graduates Liberal Studies
2018
Elle Arnold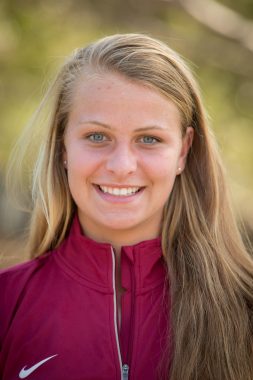 Elle Arnold '18 returns to Westmont next year to earn her teaching credential. She has been going on medical missions with her father, a pediatric ophthalmologist, since she was 11. Eventually, she started teaching English in a Buddhist Thai school on the Thai-Burma border. She spent a semester in Kurdistan working with the Free Burma Rangers, helping refugees who had survived genocide and interviewing ISIS victims, as well as girls who had been taken and sold as ISIS sex slaves. She also studied abroad in Uganda and lived and taught as an intern in a primary school. She hopes to return home to Alaska and teach and someday work with English learners (at home or overseas) and refugees and possibly pursue international journalism.
2017
Amanda Litchl
Articulate, athletic, artistic, and an all-round-achiever, Amanda Litchl '17 is graduating in three years with a liberal studies major and a Spanish concentration. Earning multiple community service awards prior to college, Amanda has brought the same spirit of service to our campus, keeping statistics for Westmont's sports teams and serving fellow students through Dial-a-Ride. Conversation with Amanda inevitably includes family and pride in her Cuban heritage. She looks forward in the year ahead to earning a teaching credential, a path of service where her empathy and enthusiasm will be major assets. Also—according to her Westmont Transcript—her success in PEA 11: Boot Camp! Amanda aspires eventually to be a volleyball coach and Girl Scout leader in her own hometown—providing another generation the same formative opportunities that others gave to Amanda.
2016
Rachel La Commare
Raised in Santa Barbara, Rachel La Commare '16 was inspired to pursue a liberal studies major and music minor thanks to her former teachers and mentors at Hollister School, La Colina Junior High, and San Marcos High School. After graduation, she intends to pursue a double credential in elementary education and music at Westmont College. Rachel works tirelessly, is well prepared, and has an exemplary work ethic. Additionally, she is a multi-talented student, singer, worship leader, and musician. In tune and sensitive to the needs of others, she will make an impact on her future students with her engaging and gentle presence, passion for learning, beautiful voice, and reflective spirit.
2015
Emily Pihl
Emily Pihl '15 is an inquisitive, thoughtful, interdisciplinary thinker.  For the last three years, Emily has attended Westmont classes with a keen and contagious enthusiasm to seize every opportunity to learn. She has embraced all facets of her double major, Liberal Studies and Spanish, on campus and in Westmont in Mexico. Emily is thoroughly prepared for class; she notices how ideas and concepts relate across disciplines and she carefully considers how she can apply new knowledge.  Emily's thoughtful insights raise the bar for her peers and professors. Additionally, Emily's winning smile and warmth add to her joy for learning; she is a model student that will make an impact in an elementary school classroom in the future. Department faculty eagerly anticipate Emily's contributions to the field of education as a teacher-leader.