Outstanding Graduates Music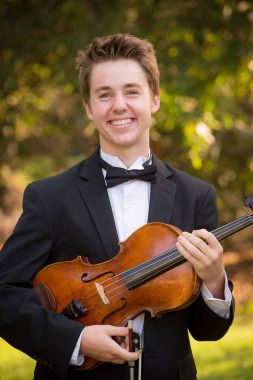 2018
Erik Fauss
Erik Fauss '18, who will enroll in a Master of Music program in viola performance at the London Royal Academy of Music in the fall, hopes to continue performing and teaching music, collaborating with jazz and folk musicians and traditional Asian or African performers. "My vision is to instill the Gospel into a concert series or music education program," he says. "I have endless ideas, but God will get me there." Erik is grateful that Westmont helped him mature spiritually and discover more of who he is in Christ. "This includes making relationships with professors, students and churches," he says. "From Capax Dei to intercultural programs, I have sought all Westmont's resources and benefited tremendously. I loved how much I learned, whether in my nutrition and anatomy classes, my religious studies courses, or the music major classes often with just four or five students."
2017
Lalia Mangione
Lalia Mangione '17 has tremendous musical talent and a strong work ethic. She has diligence and determination to achieve her maximum potential. She is one of the strongest musicians of her class--winning the Guild competition. She has won two concerto competitions at Westmont and was a laureate in several scholarship award events and competitions. She has shown strong leadership and responsibility as concertmaster of Westmont Orchestra and has travelled to many retirement centers and nursing homes to share her musical talent with the Santa Barbara community. She is warm-hearted and helps others in need, and has brought so much joy and positive energy to our department.
2017
Andrea Larez
Andrea Larez '17 has such wonderful talent. What we respect in her the most is her perseverance. She is often the first one in the music building in the early morning hours to practice and many times is the last one to leave the building at night. She has served as concertmaster for many years, has won scholarships and awards, and has shown great accomplishments over the years. She is a perfectionist and sets a very high expectation for everything she does. She has the innate sincerity and kindness that make her a delightful and genuine young woman. She is highly respected by her classmates and our department applauds her for many achievements.
2016
Aaron Wilk
It is a joy and pleasure to congratulate Aaron Wilk '16 on his extraordinary accomplishments. Aaron's achievements and abilities at the piano keyboard are quite astonishing. He possesses breathtaking sightreading skills, virtuosity, and performance artistry, and the last two years won the highest prize awarded in Santa Barbara's prestigious Performing Arts Scholarship Foundation contest. Aaron has achieved excellence in all of his studies, and in voluntary medical research. He also enjoys a healthy and active social and recreational life. In cycling, mountain climbs are categorized by difficulty level as 4, 3, 2, or 1, with 1 being most challenging. Climbs that are beyond level 1 are known as hors catégorie. In the end, that is the term we have found most helpful for describing this young physician-scientist-researcher-pianist, beyond category.
2015
Rebecca Shasberger
Rebecca Shasberger '15 is the principal cellist of the Westmont Orchestra and has been featured twice as a concerto performer. She has toured Austria, Hungary, and China during her seven year tenure and has served as Orchestra Chaplain as well as Orchestra President. Rebecca has appeared with the West Coast Chamber Orchestra, West Coast Symphony Orchestra and previously served as principal cellist and featured concerto soloist with the Santa Barbara Youth Symphony. She is a founding member of the Siloam String Quartet and has performed for Westmont's capital campaign in 6 states. Rebecca has been accepted nationwide to highly competitive graduate programs in cello performance, including the Cleveland Institute of Music and DePaul University.