Outstanding Graduates Philosophy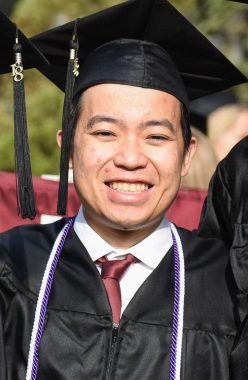 2018
Hien Bui
Hien Bui '18, who will pursue a master's degree in philosophical theology at Oxford in the fall, hopes for a career in academia, teaching and researching in philosophy. At Westmont, he completed three research papers: "A Defense of Dispositional Innatism," the claim that we have innate dispositions to believe in certain things; "A New Solution to the Problem of Divine Freedom and Goodness," how God can be both perfectly good and free; and "A Defense of Motivations for the Growing Block Theory of Time," the theory that the past and present exist but not the future. "The best part of my four years at Westmont has been the relationships with professors, friends and peers, who have introduced me to questions about God and the world he created and who have also helped me learn how to think critically about those questions," he says.
2017
Matthew Maler
Since declaring a philosophy major his freshman year, Matthew Maler '17 took the department by storm. While taking nearly every course we offer, he distinguished himself as a bright and articulate student with an inquisitive mind, a creative pen, and a passion for philosophizing. Matt also served the department as president of our honor society and a teaching assistant. In recognition of his accomplishments and contributions, the department awarded him the Wennberg Scholarship last year. Matt was also a Writer's Corner tutor, president of the Science and Faith Club, college orchestra violinist, and silent comedian in a college opera. He also presented at philosophy conferences and secured some publications. Matt plans to begin graduate studies in philosophy next year in pursuit of a Ph.D.
2015
Bradlee Smith
Bradlee ("Trude") Smith '15 is thoughtful and earnest. He uses his intellectual abilities to ask significant questions, but never in an overbearing way. He's the kind of person one wants as a conversation partner. And he has made valuable contributions to many conversations (in class and out). Trude works to take positions & ideas seriously. Yes, he wants to understand the details of an argument, but he really wants to understand how those details fit into the big picture. And the big pictures in philosophy that interest Trude the most are the human ones: how ideas about knowledge, God, essence, language, value, culture, etc. make a difference in a real human life. And who will not be won over by his personality, which is always easy-going, unpretentious, warm-hearted and playful?!