Outstanding Graduates Political Science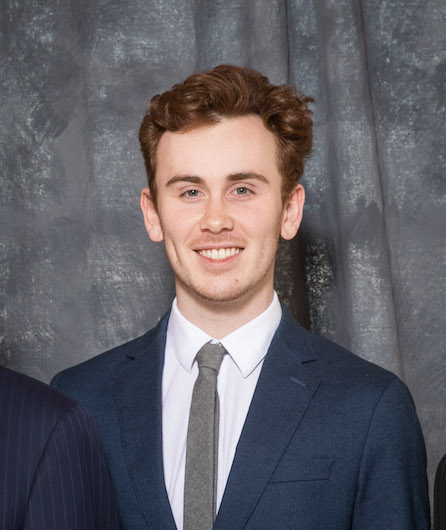 2018
Hugh Grant-Chapman
Hugh Grant-Chapman '18, who has earned a Fulbright Scholarship to be a English teaching assistantship in Taiwan, was one of three students who interviewed Gen. Michael Hayden at convocation following the Westmont President's Breakfast. He used complex econometric analysis to investigate the relationship between immigration and economic growth in developing countries, co-authored a paper on the intersection of athletics and American courts with Professor Tom Knecht, and served as the department's teaching and research assistant. "I'm excited to immerse myself in a different culture and community," he says. "The island I will be living on is small and close-knit, and the ties of community are apparently very strong. I look forward to improving my Mandarin-speaking abilities and getting to use them on an everyday basis."
2017
Alexandra Nieuwsma
During her time at Westmont, Alexandra Nieuwsma '17 was known for her excellent academic work—for her careful reading of texts, diligent preparation, classroom engagement, and focused writing. Embracing the liberal arts, Alexandra played the harp in the Westmont Orchestra, volunteered with Sanare Senior ministry to bring music to assisted living centers, and wrote op-eds for the Horizon student newspaper. Alexandra's accomplishments are all the more impressive in light of her completing her Westmont education in only two and a half years. Alexandra is currently working as a research assistant for Distinguished George P. Schulz Scholar and Senior Fellow Judge Abraham Sofaer at the Hoover Institution at Stanford University.
2016
Jarrett Catlin
Jarrett Catlin's ('16) professors describe his work as "outstanding," "unequivocally excellent," and reflecting "a keen analytical…mind." Beyond his exceptional academic performance, Jarrett's involvements reflect vibrant intellectual curiosity, a passion for politics, and a deep concern for people. One professor described Jarrett as thinking "with his head and his heart." Jarrett co-founded Westmont's "Convergence Club"—promoting engagement and civil discourse on challenging political issues. Jarrett partnered with Dr. Knecht to research the rather dry subject of California water politics and came up with an ingenious solution to the crisis: more rain. Jarrett completed his coursework early in order to serve on the leadership team for Westmont in Istanbul in the Spring of 2016.
Hannah Early
An analytically gifted scholar, Hannah Early '16 is exceptionally bright, focused, and diligent, and has assisted the department with research since her first year. She has worked with Dr. Knecht on a project that examined the electoral success of amateur candidates for the U.S. House of Representatives, taking the initiative on the research and finding new and innovative ways to gather data on amateur candidates. Hannah's writing skills and incisive intellect are impressive, as are her maturity and strong interpersonal skills. Hannah conducted a major honors project on USAID vs. U.S. Aid: The Limited Effectiveness of U.S. Legal Aid to IsraelPalestine's "New Legal Space," an applied policy study of great relevance to the discipline.
2015
Sophia Meulenberg
Sophia Meulenberg '15 is deeply engaged, disciplined, thoughtful, and brilliant. A Monroe Scholar with a formidable intellect, Sophia has done graduate-level work since the day she arrived at Westmont. She is gifted with a keen and inquiring analytic mind, which she pairs with a very strong work ethic. Her writing, preparation, in-class participation, and examinations are all unequivocally outstanding and set the standard to which other students aspire. Sophia worked for the department as a phenomenally talented teaching and research assistant; Professor Knecht was so impressed with Sophia's abilities that he asked her to co-author a professional paper with him. Sophia is a delightful individual with compassion for others and one of the very best students we have ever taught. We look forward to her bright future working in international diplomacy. 
Sophia was one of 30 selected as a Pickering Foreign Affairs Fellow. She attended Georgetown University in the Fall of 2018 to complete her master's degree in foreign service, and will complete a domestic internship at the U.S. Department of State in Washington, D.C., and an overseas internship at a U.S. embassy before working for the State Department upon graduation. She served with the Peace Corps in Senegal from 2016 to 2017.