Outstanding Graduates Psychology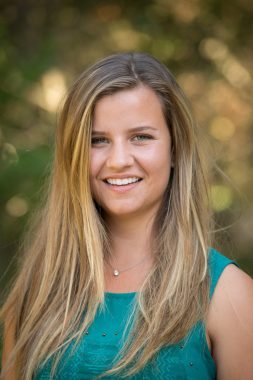 2018
Kennedy Mahdavi
Kennedy Mahdavi's ('18) clinical experiences range from serving the psychological needs of children with neurodevelopmental disorders to assisting adults with neurological conditions. Her majors honors project addressed the effect of antidepressants on the cognitive functioning of those with Parkinson's disease. "It's something that affects so many of us, directly or indirectly," she says. "I have had the privilege of working with older adults who have Parkinson's and other neurodegenerative conditions, and I have come to recognize cognition as a key indicator of quality of life. There are so many opportunities, from providing a listening ear to simply offering presence of being, that we all have to love the aging population well." She made professional presentations to at the American Psychological Association and International Neuropsychology Society. She earned the David K. Winter Servant Leadership Award, studied abroad in Israel and Palestine, and served with residence life and student government. "Studying psychology at Westmont has provided a solid foundation to pursue interests in various areas, including neuropsychology, but I've also realized that a passion to serve the aging population could lend well to a career in nursing or occupational therapy," she says. "For the time being, I'll pursue local opportunities to gain more experience working and researching and go from there."
2017
Anna VandeBunte
Anna VandeBunte '17 has a strong intellect and thoughtful curiosity that puts her academic abilities at a graduate level. Clinically, she is perceptive in her diagnostic abilities and skilled in her capacity to synthesize theory with effective intervention. This has been evident in her work at Sanctuary Psychiatric Centers and her practicum at Pacific Neuroscience Medical Group, where she respectively works with adults who have severe mental illness and neurological disorders. Her gifting as a researcher is evident in her professional presentations at the American Psychological Association, Association of Psychological Science, and International Neuropsychology Society, as well as her completion of a Major Honors project focusing on depression in Alzheimer's and Parkinson's diseases. The field of psychology is better because of Anna's presence and contribution.
2016
Brooke Phipps
Brooke Phipps '16 is among the finest students with whom our department has been privileged to work. Academically, she shows a strong intellect and a thoughtful curiosity and open-mindedness that are already at a graduate level. Clinically, she is perceptive in her insight and flexibility, and she shows an advanced understanding of the theory and technique of psychotherapy. This has been evident in her work with women and children who have been victims of domestic violence, as well as her service to pediatric patients in the Child Life program at Cottage Hospital. By supervisors, professors and peers alike, Brooke is appreciated for her professionalism, conscientiousness and warm demeanor.
Cally Smith
Cally Smith '16 is a renaissance psychology student. Her gifting as a researcher is evident in the quality of her design and implementation in her senior research project examining the relationship between tactile sensitivity and empathic response. Her clinical acumen is evident in the rapport she builds, the clinical insight she demonstrates, and the effectiveness of the therapeutic interventions she implements at the Friendship Center, where she works with older adults with neurodegenerative conditions. Her writing is prominent for depth and sophistication of thought, and her character shines with humility and integrity. Cally represents the best of integration among the subdisciplines of psychology.
2015
Andrea Sargent
Andrea Sargent '15 distinguishes herself from other students because of her sharp mind, passion for service, and positive outlook. She is a remarkable student, teacher, and researcher, as testified by her GPA and research assistantship with numerous research projects in social psychology. Because of her infectious smile and enthusiasm, as well as her passion about others, people gravitate toward her. She is highly skilled at listening, attending to, and working with others, which results in a transformative influence in all her activities. This includes positions in various clinical organizations, like Cottage Hospital, as well as on-campus offices and student-run organizations. In all things, Andrea demonstrates love, attentiveness, and compassion for others.
Emily Hauck
Emily Hauck '15 is both excellent and conscientious as a student, researcher, and clinician. Her remarkable organization, motivation, and determination led her to thrive in her role as Lab Coordinator. At the same time, her humility, empathy, and graciousness have translated into effective clinical work with children, including those with developmental disabilities. On a personal level, Emily is bright and resourceful, with a keen mind to learn quickly and a compassionate heart for improving the lives of those around her. There is no doubt she will thrive and be among the top clinicians and researchers in her graduate endeavors in clinical psychology.