Outstanding Graduates Sociology and Anthropology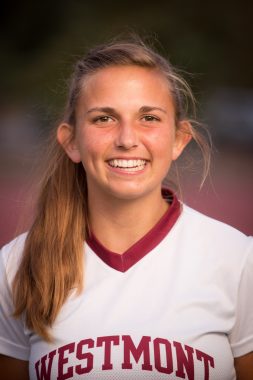 2018
Haley Parzonko
Haley Parzonko '18 hopes to bring about social change, promoting human flourishing in marginalized communities. She served four years with the homeless ministry Bread of Life and studied with Westmont Downtown, working with an organization that brings together local businesses, non-profits and government agencies to combat homelessness and assist domestic trafficking survivors. She invested in a reading group on race and criminal justice and explored issues of gender, religion and class during the Westmont in Cairo semester. One of the most rewarding parts of her Westmont career was competing with the women's soccer team. "This program was a safe place for me to learn how to fail and grow from those experiences," she says. "My character and leadership have grown tremendously due to the coaches, mentors and teammates all affiliated with the Westmont program. The program cared about winning, but they also cared about each player in the long run and who we are going to be as people in this world. I find it very special they cared about developing us as women to empower our voice and character."
2017
Emma Robins
Emma Robins' ('17) pursuit of academic excellence is reflected in her double-majoring in sociology and English, and minoring in gender studies. Her major-honors thesis explores media representations of police brutality and sexual assault, including how language about black women's  experiences both reflects and stifles their lived realities of racial and gender prejudice. Emma's passion for ministering to persons with stigmatized identities is exemplified in her work as a chaplain at San Francisco General Hospital and leader in Spectrum, a local nonprofit seeking to create a safe space to discuss issues related to sexual orientation and gender identity. Next year, Emma will work with economically-disadvantaged children in Oakland, continue working as a chaplain, and seek to serve at a rape crisis center. She plans to pursue a graduate degree in social work. We are pleased to award her with the Outstanding Senior Award in sociology and anthropology.
Sherry Luo
Striving to integrate her faith, academics, and practice, Sherry Luo '17 is deeply committed to serving marginalized populations and applying her sociological understanding of institutional systems and inequalities. Sherry has worked with adult orphans with disabilities in Guatemala through Emmaus Road, tutored prospective first-generation college students as a Liberal Arts Ambassador, participated in Bread of Life, and interned at The Freedom Story, a nonprofit that mentors disadvantaged students vulnerable to human trafficking. On campus, Sherry founded and led Convergence, a student club that creates opportunities to foster civil dialogue about current issues, including the refugee crisis, gun control, freedom of speech, Black Lives Matter, and mass incarceration. This fall, Sherry will begin a master's program in social work. She plans to work with disadvantaged children, youth, and families in urban settings. We are pleased to award her with the Sociology and Anthropology Praxis Award.
2016
Chad Sykes
Chad Sykes '16 is deeply committed to living out his Christian faith through community engagement. Chad has excelled in the classroom and in the Westmont Downtown program – asking meaningful questions, demonstrating significant sociological insight, and striving to achieve positive social change. Through his work as a program intern with the nonprofit organization Just Communities, Chad researched the complex social issues in the U.S. educational system. Chad's passion for being a mentor is apparent in his work as a resident assistant on-campus, his involvement as a camp counselor with abused foster care children, and his role as the student-chaplain on the Westmont in Northern Europe program. Following graduation, Chad intends to teach high school mathematics and coach youth basketball.
2015
Katie Pluymert
Katie Pluymert's ('15) academic excellence goes far beyond her coursework. As the Editor-in-Chief of Westmont's Horizon, Katie's leadership encouraged campus discussions over socially significant issues including racial diversity, sexuality, and social inequality. Committed to fostering dialogue and engaging matters of diversity, she founded the Loving Our Religious Neighbors Club – a group that encourages interfaith dialogue on campus, studied abroad with the Westmont in Istanbul program, and is completing a senior research project that examines the recent news coverage of unaccompanied child migrants from Central America. Having interned at St. Anthony's in San Francisco, one of the premier social outreach institutions for homeless individuals, Katie intends to spend a few years working in the non-profit world before pursuing a career as a professor of Sociology.