Degrees & Programs Political Science
As a Westmont political science major, you'll learn by doing.
You might play the part of a congressional party whip trying to reform health care; or issue a decision on religious freedom as the Chief Justice on the U.S. Supreme Court in a mock trial; or you might just travel to New York as part of a Model United Nations. The political science major trains students in the theory and practice of politics in the United States and the global community, emphasizing international relations, American politics, comparative politics and political philosophy. Our department helps students become politically competent citizens in light of the Christian faith, working faithfully for justice in a world characterized by political, social, cultural, religious, and economic diversity.
Career Paths
Law
Management consulting
Teaching
Public relations
Government administration
Foreign service
Social services
Military and police services
Journalism
Christian ministry
Westmont Political Science has had excellent success in graduate school admissions and career launch, with 95% of alumni finding placements within the first year after graduation. Our alumni have pursued further study at institutions such as Georgetown University, Notre Dame, Stanford University, and the London School of Economics. The major proves deeply practical in preparing students for professional success: in addition to law, public service, foreign service, and teaching at all levels, many of our majors go on to work in business, finance, and consulting.
See career paths for graduates who majored or minored in political science at Westmont.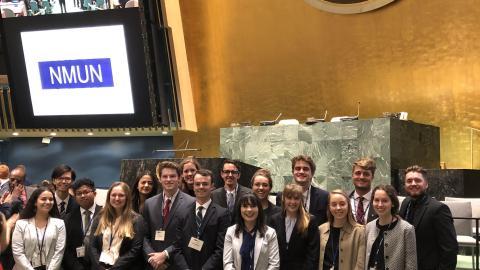 Westmont at the NMUN in New York City 2019
The entire Westmont delegation earned an Honorable Mention for their work on committee sessions throughout the week at the National Model United Nations conference in New York City in April of 2019. Also, Maddie Weicht and Wesley Stenzel earned an award for their Position Paper on the World Food Program.  Sarah Ferguson earned an award for her Position Paper on UNICEF.  Korbin Breeden and Jonah Zahnd earned Outstanding Delegate Awards for their work on the General Assembly's Third Committee.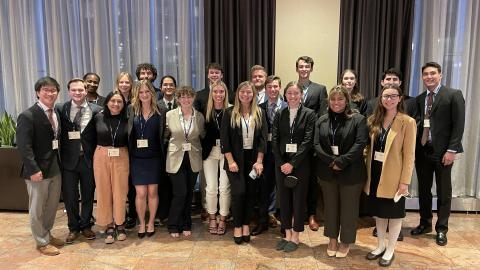 Westmont at the NMUN in New York City 2022
Spring 2022: The International Organizations and Law class planned and prepared for a trip to New York City for the National Model United Nations conference. The students worked exceptionally hard preparing to represent Ghana in eleven different UN committees (including the Security Council). Their hard work paid off and Westmont's Model UN team was designated a "Distinguished Delegation" by the conference staff. Well done Westmont!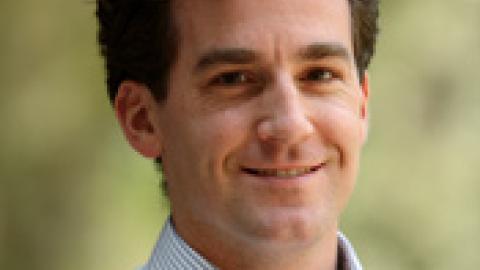 Political Morality
Dr. Jesse Covington co-authored an essay titled "Hopeful Realism: Renewing Evangelical Political Morality" (with Bryan McGraw of Wheaton College and Micah Watson of Calvin University) that was published in Public Discourse.
Political Science Alumni
Jimmy Wittrock '10 graduated on the Pre-Law track. After college, Wittrock worked as a Field Organizer for a Senatorial campaign and then went on to earn a master's degree from George Washington University (GWU) in Political Management. During his time at GWU, Wittrock worked as a Marketing Assistant at the Democratic National Committee, and eventually returned to Santa Barbara to work for U.S. House of Representative, Lois Capps. He has worked most recently as the Deputy Campaign Manager for Salud Carbajal's successful congressional campaign. 
Hannah (Cochrane) Byrnes '11 has worked for the Department of State (D.O.S) in the Bureau of European and Eurasian Affairs as their Policy and Regional Affairs Intern. After receiving her Masters at Georgetown University's Security Studies, Byrnes worked as a Research Intern for the International Strategic Research Organization focusing on the U.S.' position towards the PKK in Turkey and Iraq. She is currently a Senior Consultant for Deloitte Consulting, one of the Big Four accounting firms.
After working on Capitol Hill as a Congressional intern and a John Jay Fellow in Philadelphia, Pennsylvania, Tyler Castle '12 worked for renowned public policy research think tank, American Enterprise Institute, as their Values & Capitalism Intern. He was then hired as a Senior Associate for their Academic Programs and was recently promoted to Program Manager of the Values & Capitalism Program.
Former Student Body President David Dry '14 worked on Capitol Hill as a Congressional Intern and taught as a volunteer and camp counselor to South African youth. He has also worked internationally with nonprofits across the world in countries including Bangladesh, and Turkey. Dry also participated in the John Jay Fellows Program, and was hired by the National Republican Congressional Committee (NRCC) where he served for several years as Senior Finance Coordinator. He is currently living in Washington D.C., working as a congressional staffer. 
Jonathan Clouse '92 lives in North Carolina and has been working for the Department of Defense since graduating from Westmont.
Andrea Benson '04 is on staff with a mission organization called Christian Associates which does church-planting in Europe. She is in the midst of raising support for a move to Paris, France.
Samantha (Williams) Werley '05 works for a grant consulting firm which serves local governments nation-wide. As a research analyst, she tracks federal funding appropriations and researches major grant programs that will benefit their clients in areas such as education, transportation, the environment, the arts, and justice. Samantha specializes in philanthropic foundation research.
Patrick Otellini '02 is currently an Associate at A.R.S. & Associates doing building and fire code consulting for new developments in San Francisco. His business works as the go-between for the developer and the various city agencies in San Francisco to help high rise construction projects from the entitlement phase to final completion.
Megan Shrader '02, is a news anchor and television host in San Antonio, Texas for the local CBS affiliate. She hosts a show called "Great Day SA." Megan also writes for the NSIDE business journal on a free-lance basis. "I think Political Science has definitely given me an edge in the news industry. I don't just report the issues, I can understand and discuss them with folks."
Cherie Warren '94 is a development lead at Microsoft. "It's not exactly using the political science degree, but politics is in every interaction we have! I'm very grateful for my time at Westmont!"