Degrees and Programs Religious Studies
Study with a group of committed scholars who are passionate about their work and their students and will invest in your education and spiritual growth.
Expand your view of faithful living as you witness the deep Christian faith of your professors and their varied denominational backgrounds. Be trained to think about and understand every area of the Christian faith so you can share your knowledge as it shapes your life. Prepare to answer a call to professional ministry or simply to live out your faith through your work and service in your church and community. Find your place in the millennia-old history of the Christian faith.
Major Requirements and Sample Schedule
Roslyn (Roz) Smith- Academic Assistant
Email: rossmith@westmont.edu
Tel: (805) 565-6169
Office: Porter Center Room  1A
 It is a privilege to return to my alma mater.  I am honored to be part of the transformation process that occurs each semester for professors and students.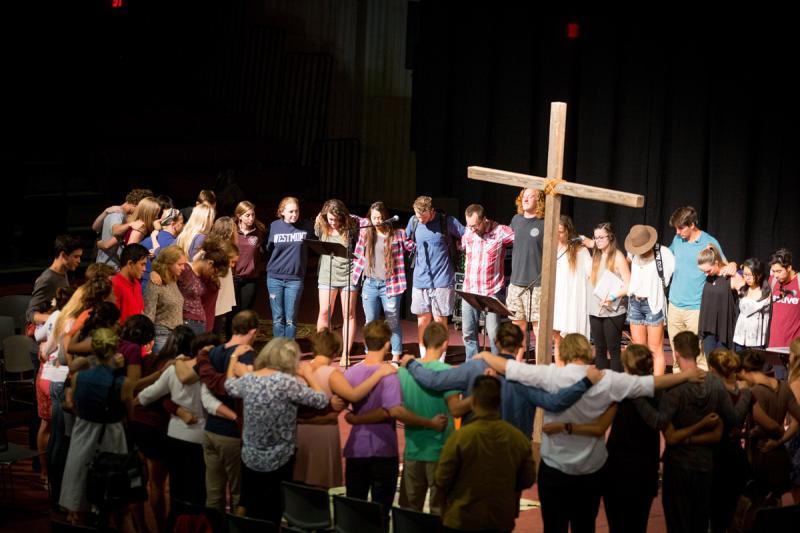 Career Paths 
Business (especially international business)
Christian counseling, clinical counseling, spiritual direction
Foreign and domestic missions
Journalism and the arts
Law
Marketing and management
Medicine (including physical therapy), medical missions
Music, sacred music, worship leadership
Nonprofit organizations, NGOs, Peace Corps
Pastoring, youth ministry
Publishing
Social work, occupational therapy
Teaching (secondary school, undergraduate, postgraduate)
See career paths for graduates who majored or minored in religious studies at Westmont.
Key Skills Our Graduates Develop
They will employ close reading skills with regard to primary sources: observation; inquiry; attention to genre, context, intertextuality, and literary influence; awareness of their own assumptions and cultural biases; awareness of audience(s) and effect on readers.
They will display judicious use of scholarly resources (e.g., language tools, commentaries, monographs, journals, dictionaries, encyclopedias, electronic databases, library holdings, inter-library loan, web-based tools). They will acknowledge dependence and influence through appropriate notes and bibliography.
They will appropriate a range of critical methodologies (e.g., historical, literary, textual, rhetorical, socio-cultural), draw on insights across the range of relevant disciplines (e.g., linguistics; anthropology; sociology; philosophy; archaeology), and recognize the insights and pitfalls of various ideological approaches (e.g., post-colonial, feminist, Marxist).
Our graduates will understand the fundamental claims and logic of the Christian faith, appreciate the development of Christian theological traditions over time, and be able to think theologically.
They will faithfully interpret texts including the Bible and other primary sources in the worldwide Christian tradition.
They will fairly evaluate the theological claims of secondary sources and current voices within and outside the Christian tradition.
They will thoughtfully address intellectual and practical issues involving both narrowly theological matters and concerns in other disciplines.
They will be acquainted with, and increasingly formed in, the practices that Christian theology serves including worship, fellowship, mission, study (especially of the Bible), and ethical conduct.
They will increasingly recognize connections between personal faith, scholarly inquiry, and the shared life of God's people in the world past and present.
They will sense no conflict between rigorous intellectual inquiry, faithful service, and passionate worship.
They will establish lifelong disciplines marked by theological reflection, Christ-like compassion, and robust engagement in the public square.
The Task of Dogmatics
Sameer Yadav contributed a chapter, "Doctrine as Ontological Commitment to a Narrative," to an edited volume, The Task of Dogmatics. He also published a book review of Silvia Jonas's Ineffability and its Metaphysics in The Journal of Analytic Theology and gave a talk at a colloquium for the philosophy club at the University of North Carolina, Asheville, "The Rationality of Closure to Transformative Religious Experiences: A Response to Laurie Paul."
New Book release for Gundry Chair, Sandra L. Richter!
Richter cares about the Bible. She also cares about creation. An expert in ancient Israelite society and economy as well as biblical theology, she walks readers through passages familiar and not-so-familiar, showing how significant environmental theology is to the Bible's witness. She then calls Christians to apply that message to today's environmental concerns. Though modern political alliances may tempt readers to sever Christian faith from environmental stewardship, in this concise and accessible book, Richter urges us to be driven by God's values instead.
Stewards of Eden: What the Scripture has to say about the Environment and Why it Matters
A Week in the Life of a Greco-Roman Woman New Book by Professor Holly Beers
In this gripping new novel, Holly Beers introduces us to the first-century setting where the apostle Paul first proclaimed the gospel. Illuminated by historical images and explanatory sidebars, this lively story not only shows us the rich tapestry of life in a thriving Greco-Roman city, it also foregrounds the interior life of one courageous woman―and the radical new freedom the gospel promised her.
SEE JERUSALEM BY BACKPACK MAYTERM 2020
Program Director PROFESSOR SANDRA RICHTER, Westmont's Robert H. Gundry Chair of Biblical Studies, has spent many years touring and excavating in the land of Israel. Students will spend 20 hours prior to departure mapping out the topography, soil, and waterways of the 
"holy land" on military-grade maps and then chart the biblical narratives on those maps. Upon arriving in Israel, the encounter begins. With your home base at Jerusalem University College, you will hike all of these mapped spaces and engage in on-site lectures regarding the people and events who occupied them. 
https://www.westmont.edu/juc-mayterm
Westmont-UCSB Joint Lecture on the New Testament and Early Christianity
Paul and Roman Imperial Theology
John Dominic Crossan, DePaul University
Thursday, February 20, 4:00 PM
Global Leadership Center
 
Marina Mendizabal '18 and Jacob Grant '18

Religious Studies increased our awareness of the diverse and complex world views held globally. This global perspective has in turn changed not only how we interact with the global context but our local community. Our understanding of culture and religion inside the classroom grew into an active passion which flowed into our local church, neighborhoods, and city of Santa Barbara. This understanding of how we view the world "glocally" pushes us to learn even far beyond our graduation day from Westmont College.
Kat Burgett '11
Kat Burgett '11
I hadn't even thought about majoring in RS until my sophomore year, when a friend talked me into switching majors over lunch. Best impulse decision I've ever made! My RS professors and classmates taught me to love God with my mind. They helped me think through issues of faith I had never considered, and recognize the extraordinary richness of the Bible I had read all my life. After graduating from Westmont I completed an MDiv, then spent a year on staff at a church in South Africa. Now I'm working on a Ph.D. in New Testament at Duke University, where I get paid to study Paul's letters and teach seminary students about the Bible. This is a calling I had never imagined for myself before Westmont, and I'm so glad the RS department helped me find it!
Amanda Mathisen Stylianou '06
Amanda Mathisen Stylianou '06
Left Westmont for a semester to work full time at a domestic violence shelter and discovered her calling. After graduating with a double major in sociology and religious studies, she completed a Master of Social Work at Rutgers University in New Jersey. She became a licensed social worker in mental health counseling working with victims of abuse and trauma and earned a doctorate at Rutgers. She directs research and evaluation at Safe Horizon, a New York City organization that serves victims of domestic violence at shelters, centers and sites such as family courts and police precincts.
Pablo Otaola '06 
Pablo Otaola '06 
An immigrant from Argentina, began his career with Young Life (YL) as an intern during college. Passionate about the poor Latino community he grew up with, he became an area director in Chicago. He developed a holistic vision for healthy urban families, seeking to support kids from sixth grade through age 30. He takes a community-development approach, preaching Christ and meeting immediate needs. He helps start businesses that employ kids, such as designing T-shirts, and builds partnerships with local churches. He now serves YL in southwest Denver, which is 91 percent Latino. He is completing both an MBA and a master's in spiritual formation at North Park Seminary.
Sharon Koh '00
Sharon Koh '00
Joined the staff of Evergreen Baptist Church in Los Angeles in 2004, beginning as a senior associate pastor for college and young adults, then shifting to young adults and mission before spending eight years leading mission and community life. In 2016, she became executive director of American Baptist International Ministries. "This has long been God's call on my life," she says. "I'm excited to head an organization whose main goal is facilitating mission." She earned a Master of Divinity at Fuller Theological Seminary and a Master of Arts in theology focused on global mission and hermeneutics. She is completing a Doctor of Ministry at Fuller in leading change.