Join us in this pursuit.
At Westmont, we pursue significance. We yearn for something bigger than ourselves, beyond what the world considers success. Rooted in the conviction that Jesus Christ holds first place, we explore our God-given passions, gifts and opportunities. We seek many things, such as vocation, excellence, community, justice, a calling. The adventure lasts a lifetime. Westmont will help you discover your abilities the classroom and the potential of your walk with God. Learn how to truly make an impact in the world.
Important Dates
Think applying will be complicated? Think again. All application deadlines are mid-month.
| | |
| --- | --- |
| Early Action | Nov. 15 (non-binding) |
| Regular Decision | Feb 15 |
| Spring Transfers | Nov. 15 |
| Fall Transfers | Mar. 15 |
Experience Westmont
Come for an individual visit or join us for one of our special visit events!
How to Apply
Follow this step-by-step guide to apply to Westmont, where you'll not only pursue your career, you'll uncover your calling.
Virtual Tour
Catch a glimpse of the most beautiful campus in the world remotely with our interactive map.
Financial Aid
Your net cost to attend Westmont will likely be much less than our published tuition, fees and living expenses.
of incoming first-year and transfer students received financial aid
You belong here.
Congratulations! You've been accepted! We hope you join us in a transformative journey of faith and rigorous pursuit of scholarly knowledge on a campus like no other.
Best National Liberal Arts College
For the seventh straight year, the U.S. NEWS & WORLD REPORT ranked Westmont in the top 100 best liberal arts colleges "AMERICA'S BEST COLLEGES, 2016 EDITION" lists Westmont as 93rd out of the nation's liberal arts colleges.
Greatest Salary Growth
THE WASHINGTON POST listed Westmont as No. 15 in the nation among colleges and universities with the GREATEST SALARY GROWTH between average starting and average mid-career salaries of graduates.
Top Return on Investment
For the second straight year, FORBES MAGAZINE has ranked Westmont in the top 100 colleges and universities in its survey, "THE 100 TOP ROI COLLEGES 2014: THE GRATEFUL GRADS INDEX."
Most Entrepreneurial College
In a new ranking, FORBES MAGAZINE names Westmont No. 10 of the top 50 MOST ENTREPRENEURIAL COLLEGES IN THE NATION, in 2015 based on the number of businesses started by graduates.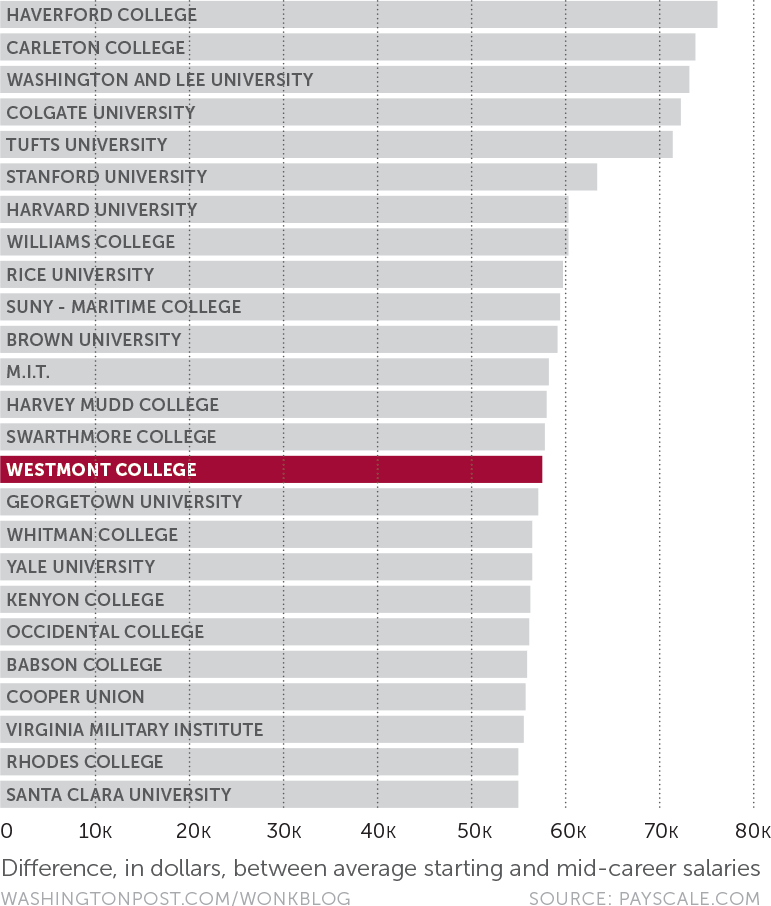 Net Price Calculator
Calculate the estimated amount of financial aid and awards you qualify for.
You have to see this view.
God did great work here. Perched between the Pacific Ocean and the Santa Ynez Mountains, Westmont's campus offers a great environment for your studies as well as the sun and surf you'll need for study breaks.