Music Percussion Instructors
Westmont Percussion Instructors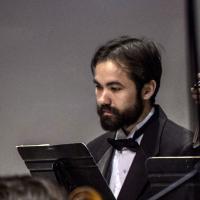 Jonathan Palmquist, Percussion
Jonathan Palmquist, percussionist, received his BA from Westmont College and his Master of Music, with distinction, from Cal State Northridge, both with a focus in Percussion Performance. While at CSUN, he became Principal Percussionist and Timpanist of the CSUN Symphony and won the 2015 concerto competition. In 2017, he was the featured marimba soloist in concerts with Adelfos Ensemble, a Santa Barbara based chamber choir. He performs as a freelance percussionist and drummer with various orchestras and ensembles in the LA and SB areas, including serving as the Principal Percussionist of the West Coast Symphony since 2012. 

Jonathan also plays vibraphone and samples as a touring member of the internationally renowned electronic duo Classixx, joining them at concerts and music festivals including Lollapalooza and Coachella, as well as their 2016 tour across the US and Canada. Additionally, he leads a vibraphone trio that performs at events, and plays drum set in his band Curtsy.

Jonathan has led the percussion studio at Westmont since 2015, teaching Percussion Techniques and private lessons, and leading percussion sectionals for the Westmont Orchestra.