Parent & Families Plan Now For Parents Weekend!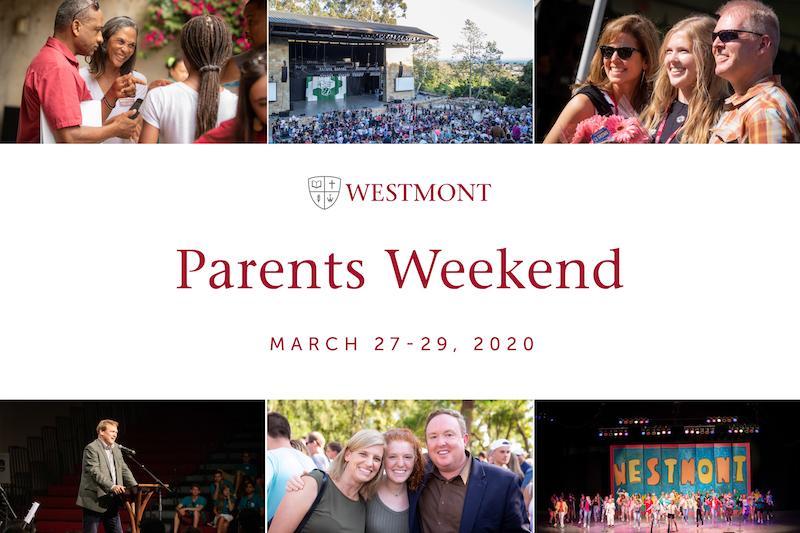 We invite you to visit Westmont—and your student—during Parents Weekend, March 27-29, 2020. Hear the latest college updates, participate in stimulating talks, and worship with students in chapel. Join in a number of engaging activities we've planned and connect with other parents, along with faculty and staff. Check below for a schedule of previous Parents Weekend. Registration opens soon! 
Online Registration will be available in February
Friday, March 27
9 a.m.-4 p.m: Stop by the Hospitality Table for coffee, tea and weekend schedules. Pick up a list of popular Santa Barbara eateries for dinner tonight and tomorrow before Spring Sing as well as student-recommended brunch locations for Sunday. Location: President's Patio (Rain Plan: Career Development and Calling Office, Upstairs Kerr Student Center)
8 a.m.-3 p.m: Go back to school. Parents are welcome to sit in on any classes listed on the schedule with or without your student. Schedules are available online at www.westmont.edu/parents/openclasses.
8:45 a.m.-4:30 p.m. (closed during Chapel): Shop at the Westmont Bookstore for a wide array of Westmont clothing and gifts and many interesting books by faculty and alumni. Location: Bookstore behind Kerrwood Hall.
10:30-11:20 a.m: Join the entire Westmont community for chapel. Worship, pray and sing with students and hear an inspiring message. Location: Murchison Gym.
11 a.m: Men's Baseball vs. University of Saint Katherine Location: Russ Carr Field
11:15 a.m. -1:30 p.m: Enjoy lunch with students in the Dinning Commons. Adults $11.50/Children 2-10 $8/under 2 free. Location: Dining Commons (DC).
1:30-2:30 p.m: Join us for a time of prayer for our students and campus. Mariah Velasquez, Associate Director for the Martin Institute and Director of the Dallas Willard Center, hosts this event. Light refreshments will be served. Location: Martin Institute and Dallas Willard Center, near the Global Leadership Center (accessible from upper campus via the Van Kampen bridge.)
3:30-4:30 p.m: Hear an interesting talk from history professor Richard Pointer entitled "Peace-Loving Indians? Recovering a Missing Piece of American History". Given what most of us know about the long and often painful history of Native peoples in America, it is easy to imagine that all Indian peoples were by nature or necessity warlike. But it turns out that there were also strong traditions of peacemaking among Indian communities. In this talk, Dr. Pointer will draw upon his forthcoming book, Pacifist Prophet, to tell the story of one such remarkable peacemaker, Papunhank, in war-torn eighteenth-century Pennsylvania. Location: Hieronymus Lounge
Evening: The rest of the evening belongs to you in beautiful Santa Barbara. Remember that Spring Sing rehearsals take place tonight, so it might be tough to treat your student to dinner or dessert. But you can enjoy a fun night out in a city with an abundance of great restaurants.
SATURDAY, March 28
8:45-10 a.m: If you missed us yesterday, stop by Saturday's Hospitality Table to check in. Location: Porter Theatre Patio. (Rain Plan: Inside the lobby, Porter Theatre)
9-9:50 a.m: Hear a special morning devotion. Our speaker will talk from 9:30-9:50 a.m. Enjoy breakfast pastries, fruit, coffee and tea from 9-9:30. Location: Porter Theatre Patio. (Rain Plan: Porter Theatre)                     
10-10:45 a.m: Join President Gayle D. Beebe as he talks about the state of the college and shares new initiatives and college developments. A question-and-answer session follows his talk. Location: Porter Theatre.
10:50 a.m.-12:15 p.m: Enrich your perspective by attending two bite-size lectures by two Westmont professors with two 40-minute presentations back-to-back. More information coming soon. Location: Porter Theatre.
10:30 a.m.-2:30 p.m: Visit the Westmont Bookstore one last time this weekend and purchase a wide array of Westmont clothing, gifts and interesting books by faculty and alumni. Location: Bookstore behind Kerrwood Hall.
11 a.m: Men's Baseball vs. University of Saint Katherine Location: Carr Field
11 a.m: Women's Tennis vs. William Jessup University Location: Abbott Tennis Courts
12:30-2 p.m: Join us for a Parents Luncheon. This year we feature delicious BBQ dishes and hear students perform. We will post more information about the student group once it is confirmed. Enjoy the opportunity to meet parents from your area. Tickets cost $20 if purchased separately; RSVP required. The Dining Commons (DC) is also open and offers you another dining option. Location: Founders Dining Room.
2:30 p.m: Time to enjoy Santa Barbara and the many great things to see or do. Remember, your student may need you to run a few errands or provide a ride to the Santa Barbara Bowl.
6:30 p.m.  (Doors open at 5:15 p.m.): See you at Spring Sing, which stars your student! We expect tickets to go on sale the first few days in March. We've also provided a new guide of eateries conveniently located along the way to the venue, where you can grab a quick bite to eat beforehand. Please note that this new list is only available at the Hospitality Table. Bring a blanket and binoculars and enjoy a fun evening! Location: Santa Barbara Bowl, 1122 N. Milpas Street.
*Parking for Spring Sing: The main parking lot for the bowl is located at Santa Barbara High School, 700 E. Anapamu Street, across the street and down from the venue; parking there costs is tbd per vehicle. PLEASE NOTE: Reserved parking at the bowl is tbd. Spots are limited, so we recommend you order early (more information coming soon). Very limited street parking is also available free of charge. 
*Please Note: A steep climb leads to the outdoor amphitheater. The bowl recommends that all patrons arrive early (45 minutes before the scheduled start of an event) to provide sufficient time for parking and entry to the venue.
SUNDAY, March 29
Morning: Worship at one of Santa Barbara's many wonderful churches with your student, who may also enjoy brunch with you!
"The Lord has done great things for us, and we are filled with joy." Psalm 126:3