Degrees & Programs Sociology and Anthropology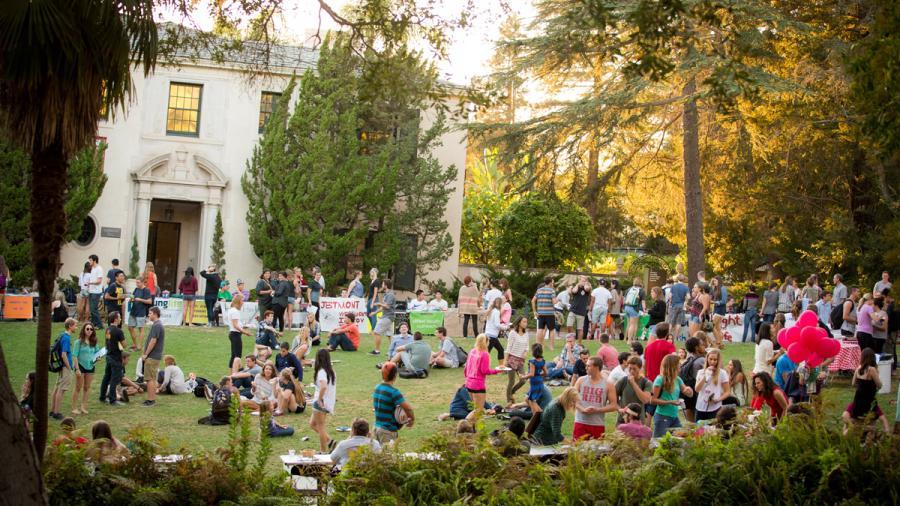 Study patterns of human behavior through courses in sociology, anthropology and social work.
Majors choose from three tracks: general sociology, human services and cross-cultural. Professors encourage you to be aware of ongoing social inequalities and engaged with local and global communities to work toward social justice and cultural redemption. You learn about the social nature of economic inequality, globalization, family, race, technology, gender, culture, religion and deviance from a Christian perspective. Earn academic credit for internships with agencies addressing social problems. Take advantage of off-campus programs, especially Westmont in San Francisco. Conduct independent research and present your work at the Western Sociology-Anthropology Undergraduate Research Conference and Westmont's Student Research Symposium. Professors work closely with you and get to know you personally.
Sociology and Anthropology Faculty Highlights
What have the professors been doing?
Sociology and Anthropology Alumni
Janie Purcell Anderson '80: "I enjoyed the San Francisco Urban program and being a resident assistant in Page during my years at Westmont. I worked at a home for unwed mothers (Florence Crittenton) until I had my own family. Later I went back and got my teaching credential and taught in private school and then in public school, mostly fourth and fifth grades."
Steven Alcala '13: "I graduated from the Los Angeles Police Academy in 2014 and have been working in the field since then. A majority of the calls I have responded to have dealt with domestic violence. I'm always looking to better myself and be the best police officer I can be."
Frieda DeBoer Brands '81: "I attended Westmont from 1977-1979 and was part of the San Francisco Urban. I had a great experience at Westmont and graduated from CSU Long Beach with a degree in social welfare. I am director of children and family services with the Lake Elsinore Unified School District and oversee all the 0-5 programs for our district. I earned a doctorate in educational leadership at CSU San Bernardino."
Kathy Bowden Derringer '77: "I worked for several years following graduation for the Rape Crisis Center and then as a victim advocate at the Santa Barbara District Attorney's office. I married and moved to Florida and have worked since then managing parenting programs for families with young children. I have loved my career in social work."
Jennifer Eskridge '05: During an internship in Uganda with Samaritan's Purse, she lived in Lira and visited rural sites and Kampala, allowing her to complete required field work for her Master of Public Health at UCLA Fielding School of Public Health. She works as a public health professional with the Oregon Health Authority.
Kristin Moll Flynn '02, chief human resources officer at Sierra Vista Regional Medical Center in San Luis Obispo: "I have the opportunity to work with a wide range of people and consider myself fortunate to have this career. My sociology background was so instrumental in bringing me to where I am today."
Marta Johnson '07: " I graduated from Loyola University Chicago in 2011 with a Master of Social Work and worked for a child welfare organization as an adoption specialist, serving primarily as a foster care case manager with kids whose cases will likely result in termination of parental rights and adoption by their foster families. I became a Licensed Clinical Social Worker in 2013 and continued my work in child welfare through a specific program through the Illinois Department of Children and Family Services, completing social history reports for the court and making treatment recommendations for children and families newly involved in the system. I now work as a psychotherapist in private practice."
Janay Ramos Marshall '01: "I earned a Master of Arts in counseling and guidance at Cal Poly and worked at a level 12 group home through Transitions Mental Health as a counselor. After I graduated, I took a job with San Luis Obispo County working with teenagers in long-term foster care, preparing them for their emancipation and independent Living. I moved to Visalia and became a social worker with a foster care agency. I loved this job and became a supervisor, which I loved even more. It was such a joy to encourage and train other social workers. I've also worked as an elementary school guidance counselor in Anaheim and as a social worker with a foster care agency in Orange County."
Christen Krogh Gomez '01 ran the Center for Therapeutic Education at San Marcos High School in Santa Barbara and worked at Devereux for four years while completing her teaching credential and Master of Education at UC Santa Barbara. She is a special education high school teacher for Englewood Schools in Colorado.
Christina Robertson Matanick '08: "My husband and I have been considering becoming foster parents, so much so that we took foster parent training classes last spring. In those classes we were inspired by the emotional journey of kids in care, and, being filmmakers, we proceeded to make a short film hoping to convey that same understanding to others."
Maureen McConaghy '67: "After graduating from Westmont, I worked briefly as a Kern County social worker and then earned a doctorate in sociology at UCLA. I taught sociology in Maryland and then went back to school for a master's degree in marriage, family, and child counseling from CSU Dominguez Hills. My husband and I raised two wonderful daughters, and then I became a licensed marriage and family therapist. I started a private practice and specialize in parenting issues, couples' counseling, and mood and anxiety disorders. I have no plans to retire because I love the work I do."
Carolyn Skinner Moreau '83: "I loved my sociology major and then the San Francisco Urban Program. I also earned a Master of Social Work in administration and planning at the University of Texas at Arlington. I worked in community planning and in early childhood intervention at the state level. After taking a break from paid work while my boys were young, I turned to more grassroots direct service supporting Hispanic immigrant parents through classes and home visits."
Jeff Swanson '85, professor in psychiatry and behavioral sciences at Duke University School of Medicine, earned a doctorate in medical sociology at Yale University.