Degrees & Programs Economics and Business
Apply what you learn in internships, network with successful alumni and find a meaningful job
Our student-centric approach and collaborative, friendly environment provide a healthy blend of quantitative analysis and economic theory with practical application in the marketplace. You gain information and expertise that make you a better contributor and communicator and prepare you for fascinating and gratifying business careers. You'll work closely with professors and explore the often-challenging intersection of faith, learning and business. Successful Westmont alumni provide you with valuable networking, internships and mentoring, helping you discover, develop and use your God-given talents. Our graduates have become leaders in a wide range of industries worldwide, from Fortune 500 companies to Silicon Valley start-ups to non-profit organizations. 
Scheduling
The department requires that students complete all lower division courses during their first two years. These preparatory courses are pre-requisites to the upper division courses completed during their remaining two years of study. Courses are designed to be sequential in developing a cumulative competency through a progression of terminology, models, and concepts that blend theory with applications. Study abroad at King's College-London or American University-Paris should happen during Third Year (either semester), or Fourth Year (Fall semester only). The IBI program should happen during the summer after Third Year. In addition to the required courses, students take five elective courses.
Economics and Business Tracks & Requirements
Career Paths
Accounting
Finance
Marketing
Social and Capital Entrepreneurship
Business Development
Management
Law
Sales
Real Estate
See career paths for graduates who majored or minored in economics and business at Westmont.
Westmont Economics & Business majors have earned graduate degrees from:
Duke-Fuqua School of Business
Fuller Theological Seminary
Geneva School of Diplomacy and International Relations
Harvard Business School
Harvard Law School
University of California, Irvine
The London School of Economics & Political Science
Loyola Law School
University of Manchester
University of Notre Dame Law School
University of Oxford
University of Oregon
Pepperdine University School of Law
Seattle Pacific University
Sturm College of Law, University of Denver
USC Marshall School of Business
USC Gould School of Law
Stanford Graduate School of Business
UCLA Anderson School of Management
University of Chicago-Booth School of Business
University of Washington School of Law
University of Washington, Michael G. Foster School of Business
Wharton-University of Pennsylvania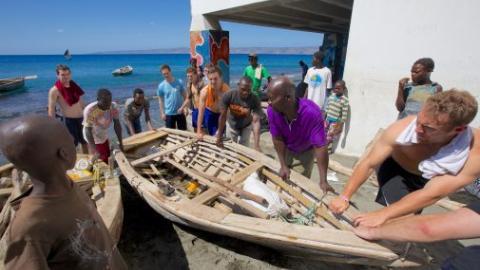 Westmont in Haiti
Fourteen business majors and minors traveled to Port-de-Paix, Haiti, as an extension of their Business at the Bottom of the Pyramid course taught by Rick Ifland, professor of economics and business for Westmont in Haiti. Students spent the fall semester preparing business plans, which launched in Haiti, helping locals kick-start effective business models.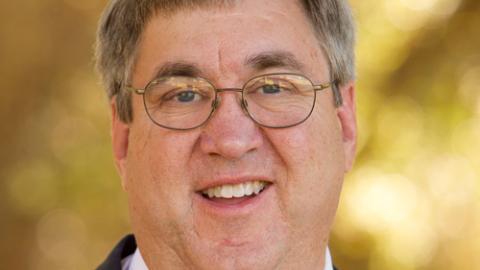 Recent publications by Edd Noell
Edd Noell published a chapter, "Smith and the Scholastic Tradition on Markets and Their Moral Rational," in "Theology, Morality and Adam Smith" (Routledge). He published a review of "Divine Providence in Early Modern Economic Thought" in History of Political Economy (Duke University Press).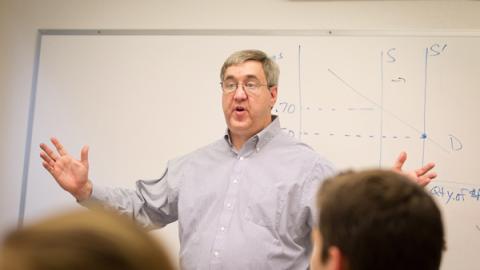 Making a Case for Economic Growth
During a conference in New Orleans for the Southern Economics Association, Dr. Noell presented a paper, "Making a Case for Economic Growth in Light of Economics and Theology: An Assessment of Recent Critiques."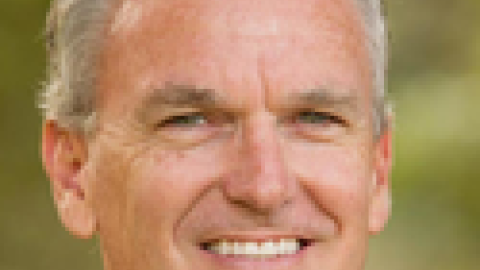 Rick Ifland, '83 co-founded a company
Professor Rick Ifland, class of 1983, co-founded a company attempting to change the way cataract surgery is performed and received 14 new patents in the past 12 months in the area of opthamology.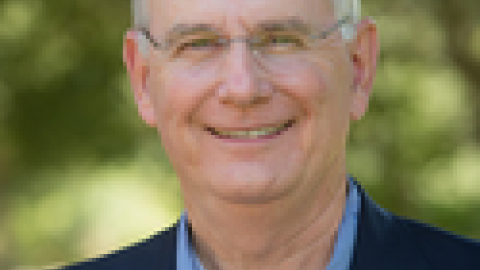 Dr. Asher receives an award
Dr. Martin Asher earned the Wharton Teaching Excellence Award, which considers student evaluations, number of students taught, and nominations from department chairs and vice deans of the undergraduate program.
Economics and Business Alumni
Mark Zoradi '76 is the chief operating officer of DreamWorks Animation. He most recently served as president of Walt Disney Studios Motion Picture Group and has a 30-year tenure in the entertainment industry, including time at the Disney Channel and Walt Disney Home Entertainment. He earned an MBA from the Anderson School at UCLA. Mark serves on the national board of Young Life and is a trustee at Westmont.
Leeba Lessin '79 is the CEO of CareMore Health Systems, a division of Well Point and oversees WellPoint's Medicaid and Medicare business. Previously, she was president of Northern California operations for PacifiCare and president of Southern California operations, PacifiCare's largest region with 1.2 million commercial members, 380,000 Medicare members, and $4.1 billion in revenue. Leeba earned an MBA from the University of Washington and a master's degree in theology from Fuller Theological Seminary. She serves on Westmont's Board of Advisors.
Janet Lampkin '81, California state president of Bank of America, oversees business integration, public policy, government relations, and philanthropy. The former CEO of the California Bankers Association, she is first woman to chair the organization. The San Francisco Business Times has repeatedly named her one of the 100 most influential businesswomen in the Bay Area. She has served on numerous boards, including the California Chamber of Commerce, the Los Angeles Coalition, the Bay Area Council, the California-China Trade and Investment Advisory Group, and Westmont's Board of Advisors. She double majored in economics and business and political science at Westmont and earned a master's degree in international relations at Australian University in Canberra.
Ken Rogers '82 serves as the State Department's Faculty Chair at National Defense University, educating military, civilian and international leaders with tools to secure, optimize and manage information technology to foster conditions that shape and sustain a peaceful, prosperous, just, and democratic world. He was the chief technology strategist and director of IT strategy for the U.S. Department of State, where he oversaw a $1.5 billion portfolio with operations in 285 locations worldwide. Ken earned master's degrees in information systems and technology at George Washington University; in international management at the University of Maryland; and in development economics at the University of Pittsburgh. Ken also serves as a professor at Nyack College.
Sharon Rose '89 is an attorney in Washington, D.C., with Cadwalader, Wickersham and Taft in the White Collar Defense and Investigations Group, representing clients in U.S. Securities and Exchange Commission enforcement matters. Her expertise includes securities and accounting fraud, insider trading, market manipulation, the Foreign Corrupt Practices Act, the Sarbanes-Oxley Act and the Dodd-Frank Act. Previously, she was the managing principal of a registered investment advisor and estate planning firm and held registered securities principal and general securities representative licenses. She earned an MBA in finance from the Drucker School of Management at Claremont Graduate University and a Juris Doctor from the University of California Davis School of Law. She is a Westmont trustee.
R. Tyler Gibbs '91 is senior vice president and general manager of Toyota Racing Development Inc. He was originally hired to build their Supply Chain from scratch and eventually gained management responsibility and oversight for finance, strategic planning, and administration. Previously, he worked for his father's small business, and then at Cosworth Engineering Inc., an auto-racing engineering company where he worked in SUPPLY CHAIN/OPERATIONS. He earned an MBA at the University of Pennsylvania's Wharton School.
Jon Walker '91 is a co-founder of AppFolio and is responsible for technology and engineering. Previously, he was the chief technology officer of Versora and of Miramar Systems (sold to Computer Associates in 2004), where he led development and quality assurance teams. The software developed under his direction has been deployed to more than 20 million computers worldwide. Jon has also been a senior technologist for Nortel Networks and Xing Technology Inc. (sold to Real Networks), and a contributing editor to LinuxWorld Magazine. He is the inventor of multiple patents.
Rick Fogg '93 is the founding partner of Chronicle Family Offices, a national family office firm that delivers advisory services for families with high net worth. He marries a technical background in law, tax, and business with a deep interest in people. He chairs the board of the Collaboration for Family Flourishing, a global, interdisciplinary community of professionals and family office executives committed to helping wealthy families thrive. He began his career at the Santa Barbara law firm of Mullen and Henzell LLP after earning a law degree at the University of Washington. He serves on the board of trustees at Westmont and the board of the Santa Barbara Rescue Mission.
Jedd Medefind '97 is president of the Christian Alliance for Orphans, which unites Christian organizations and a national network of churches to encourage adoption, foster care and global orphan ministry. Previously, President George W. Bush appointed him special assistant to the president and deputy director of the White House's Office of Faith-Based and Community Initiatives. He held various positions in the California state legislature and has worked, studied and served in more than 30 countries, with organizations ranging from the C.S. Lewis Foundation to Price-Waterhouse in Moscow to Christian Life Bangladesh. His three books and many articles include "UPENDED: How Following Jesus Remakes Our Words and Our World" with Erik Lokkesmoe '95.
Nick and Drew Parisi '05
Drew Parisi is the owner of Drew Parisi Nutrition in Menlo Park, Calif., where she focuses on functional, whole-foods nutrition for individuals, families and corporations. She has had corporate engagements with DropBox, Marketo, and Lyft and has been quoted in Forbes Online magazine as a nutritional expert. She earned Certified Nutrition Consultant and Nutrition Educator certifications at Bauman College.
Nick Parisi, chief operating officer of Goble Properties, a commercial real estate company, is responsible for establishing short-term investment strategy and overseeing the company's deal structuring and debt portfolio. He earned an MBA from Duke University, The Fuqua School of Business, studying international business in London, St Petersburg, Dubai, New Delhi, Shanghai and Beijing. He serves on the Board of Advisors for PathLight International, a non-profit focused on education for at risk youth in Belize. He is also on Westmont's Young Alumni Council. He double-majored in economics and business and philosophy at Westmont.
Kirby Ifland '09 practices in both the Mergers and Acquisition group and the Appellate Litigation group at Frost Brown Todd PLLC, a regional law firm with about 500 attorneys in major cities throughout the Midwest and South. He concentrates on mergers, acquisitions and other corporate transactions. He double majored in economics and business and communications studies and graduated in 2013 from Harvard Law School, where he was a member of Harvard Defenders and the Harvard Association for Law and Business.