Mayterm 2023 Reconciling the Past/Deliberating the Future: Peace and Conflict in Northern Ireland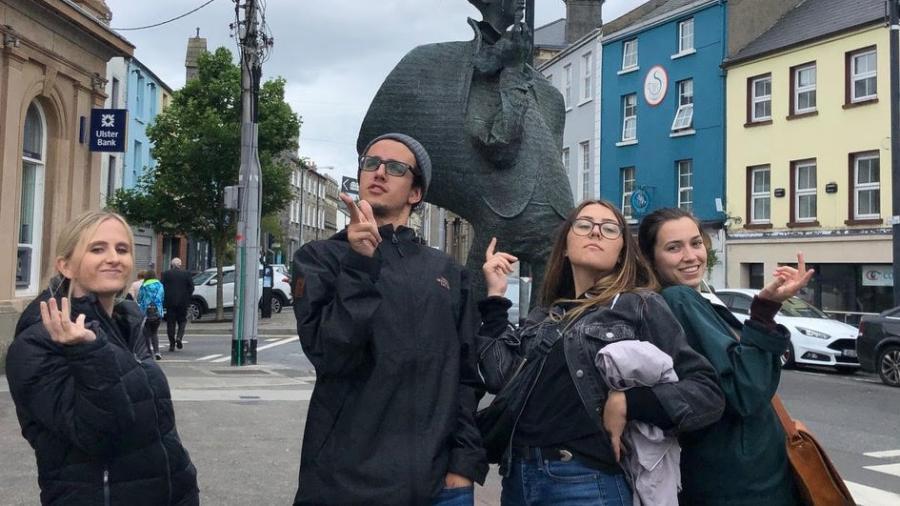 Broaden and deepen your understanding of how we create, perpetuate, remember, and reconcile conflict – and meet community leaders working toward peace and reconciliation via dialogue and deliberation. Explore Northern Ireland and a bit of the Republic of Ireland to see how dialogue is transforming neighborhoods.
Some of the questions we wrestle with include: How do people memorialize war? Peace? Violence? Sacrifice? How are scapegoats portrayed artistically and narratively? How do scapegoats both create recipes for genocide and possibilities for peace? How do we "remember rightly" as Miroslav Volf asks? When we create memorials or stories of our pasts, what are we remembering, and what are we forgetting? Who decides, ultimately, which stories are truthful, and which accounts will be publicly enshrined? Whether in our families or our nations, how do we weave our sense of self into stories and images and spaces that tell us who we are as well as who we are not?
Some places we visit memorialize terrible tragedies and loss of life. Other spaces are still fought over both literally and figuratively. Your feet will get dusty and sore on the paths of conflict. You will experience bodily a space, a memorial, a performance and the resulting uncertainties, anxieties, excitements, and triumphs that accompany the journey to, in, and through new places, peoples, and cultures.
Finally, by traveling together in community, with all of its challenges and joys, you will develop skills and appreciation required for living and traveling intensively with others.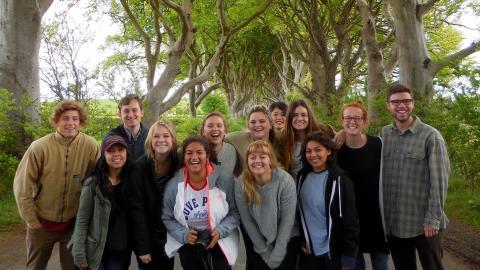 Westmont Campus
The program begins with intensive coursework and lectures on campus, meeting up to three times per day Monday through Thursday.  The time on campus is an important time for the cohort to build community and prepare for the travel portion of the program.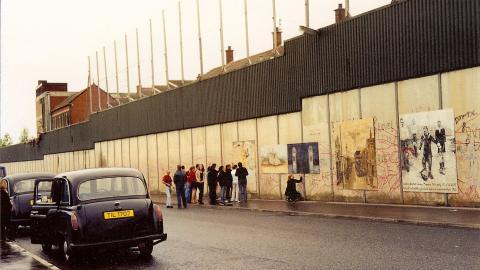 Belfast
The international journey begins in Belfast, Northern Ireland, home to C.S. Lewis, Van Morrison, and the Titanic. It has also been home to sectarian violence, divided neighborhoods, and the "Peace Wall". While its Troubled past makes it interesting historically, it was recently named one of the safest cities in the United Kingdom. In Belfast you will hear first-hand from eye-witnesses how peace is forged and how Northern Ireland is creating an equitable, diverse, and interdependent society. We will visit neighborhoods, churches, and sites of public memory as visible manifestations of changing beliefs, fears, desires, and ideologies.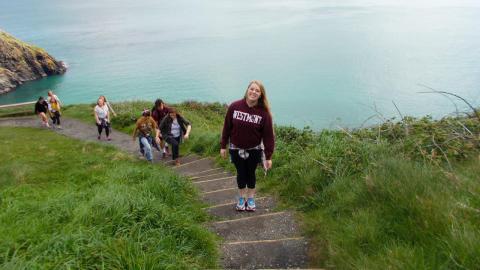 Ballycastle / Corrymeela
We spend some time on the beautiful coast of Northern Ireland (on a clear day you can see Scotland!) with the reconciliation community, Corrymeela. There you will see, hear, and experience how a community of volunteers work toward reconciliation. You will also spend a day along the Coast – visiting natural wonders and hiking the Giant's Causeway.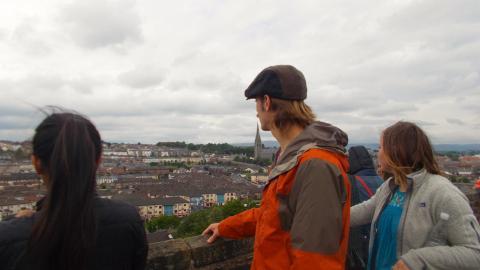 Derry/Londonderry
Walk the historic walls of the city (L/Derry is the only walled city remaining on the island of Ireland). You will learn more about the sectarian history of the Troubles, with its deep roots going back to Protestant King William of Orange and Catholic King James II. You will hear personal testimony from survivors of the civil rights march that resulted in Bloody Sunday. You will observe physical boundaries as well as social boundaries, from walls to music to language to dress to sport.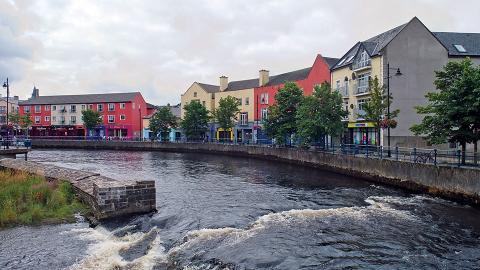 Sligo
Next you will cross from the UK into the Republic of Ireland with a visit to Sligo, and the memorials to W. B. Yeats and the over 30,000 Irish who emigrated through the Port of Sligo to escape the Great Famine. You will also observe dogs herding sheep! (This location is anticipated but not confirmed.)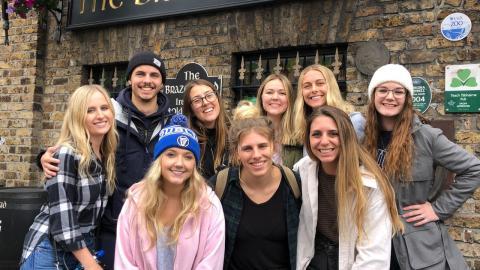 Dublin
In Dublin you will stay at the historic Trinity College in the heart of Dublin steps from the Book of Kells, St. Stephen's Green, Temple Bar, the Liffey, and the General Post Office. Here you will continue to study expressions of conflict, peace, and memory over the centuries, including the war for Irish independence and ongoing discussions of border politics in the wake of Brexit.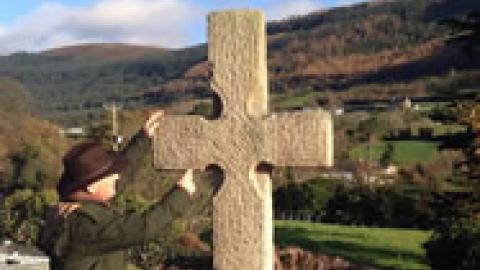 Rostrevor
Then on to Rostrevor where you will engage with some on-the-ground peacemakers who actively work to create peace in their communities and in their nation via dialogue, prayer, and ancient Christian practices.We also hike in the lovely Mourne Mountains and enjoy a traditional ceili night.
COM 134: CONFLICT & RECONCILIATION CASE STUDIES
COM 195: RECONCILING THE PAST / DELIBERATING THE FUTURE
The course is about conflict, reconciliation, dialogue, and memory, but to begin to understand these on a national, group, or even an interpersonal level you must also see the connections among context, space/place, history, institutions, resources, and human symbolic activity.  You make these connections via readings, lectures, discussions, site visits, testimonies, and reflection.  Further, you will see how sites of public memory are visible manifestations of changing beliefs, fears, desires, and ideologies.  Ultimately, understanding conflict entails exploring both how conflicts define cultures and how cultures symbolically construct and represent their conflicts.
Students study principles & theories of conflict, dialogue, and reconciliation, especially in the context of Northern Ireland.  Students will appreciate the challenges and rewards of analyzing conflicts from a symbolic approach, including constructed identities, borders, and memorials. Guest speakers and site visits are designed to showcase current deliberations about how to move beyond conflict, to develop a shared cultural heritage and identity, and to navigate Borders, especially in the wake of Brexit and ongoing tensions in particular neighborhoods. Students will ponder how memory, history, and identities are both shaped by and continue to shape biblical, national, and personal responses to war, conflict, peace, and reconciliation. Students will gain exposure to both ancient and contemporary spiritual disciplines and practices, especially those of pilgrim thinking and traveling, penitence, and peacemaking.
Coursework is taught in tandem. You are automatically enrolled in both courses. Students earn major/minor credit in COM (relationships & conflict) or general elective credit.  Students also earn the GE Thinking Historically.  All majors are welcome to apply, and there are no prerequisites.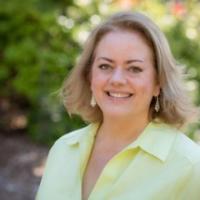 Professor Deborah Dunn
Professor Deborah Dunn earned her Ph.D. and M.A. in communication arts and sciences from the University of Southern California. She has led eight summer study abroad programs on conflict, memory, and pilgrimage in Europe, South Africa, and the Middle East. Her publications include studies of grassroots peacemaking organizations, dialogue, and transforming conflict.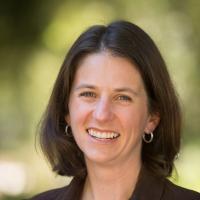 Professor Rachel Winslow
Professor Winslow received her Ph.D. in History from the University of California, Santa Barbara, a M.A. in History from California State University, Sacramento, and a B.A. in History and Political Science from the University of Rochester. She is the author of The Best Possible Immigrants: International Adoption and the American Family (University of Pennsylvania Press, 2017), which explores how social policies move from emergency measures to fixtures of U.S. political culture. Her teaching, research, and community work bring together her interest in U.S. social policy, social change practices, and American political culture.
Program Cost
Program fee is $7040 and covers room, board, entrance fees, tours, and transportation while abroad. Students are responsible for airfare to and from the USA and Belfast and for room and board the first 4 days of the program on campus. Students may request on-campus Mayterm housing through the Housing Office. Program dates: May 8-11 on campus, May 14 -June 15, 2023 abroad.
Eligibility
Class standing
GPA (minimum 2.3 gpa for eligibility)
Application and essays
Personal and faculty recommendations
Criteria 
In addition to the general qualifications above, the following are requirements that must be met, with or without reasonable accommodation, in order to complete all essential elements of the program. All participants must be able to:
Anticipate most, if not all, lectures cannot be recorded due the sensitive nature of the material and to protect the anonymity of the guest lecturer.
Anticipate possible exposure to peanut or other food allergens especially walnut oil.
Navigate multiple irregular surfaces and walk/travel up to 10 miles in a day independently. (Extensive walking, as well as travel throughout ancient cities and towns with narrow passageways and many stairs, are part of the daily life of the program.)
Navigate carrying personal items including suitcase and/or backpack without assistance.
Anticipate having sufficient emotional wellness to fully participate in the program safely and successfully despite the limited availability of frequent access to psychological services.
Anticipate at least double occupancy accommodations on some if not all locations.
Receive the final dose of the Covid-19 vaccine at least two weeks prior to the commencement of the program. 
If eligible, receive the most recent Covid-19 vaccine booster at least two weeks prior to departure if it has been at least two months since your last Covid-19 vaccine or booster. 
How to apply
The application deadline has passed. For more info about the program, contact contact Professor Dunn.