Institutes & Centers Goble Center for Global Learning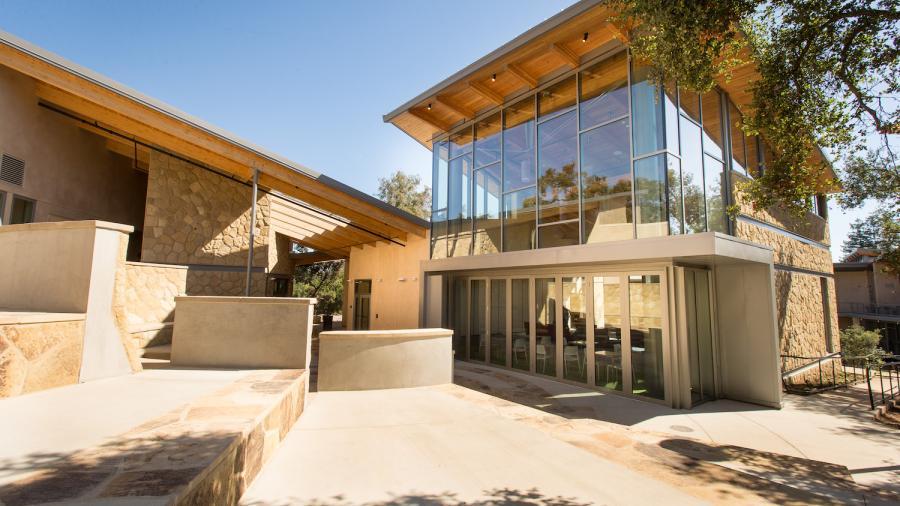 With a leadership gift from Roy and D'Aun Goble, Westmont has created the Goble Center for Global Learning as part of the new Global Leadership Center, which includes two residential buildings, the Leadership Center and five programmatic initiatives.
"Roy and D'Aun have blessed Westmont in many ways, and we're grateful for their generosity and service," says President Gayle D. Beebe. "Through their international involvements, they model what it means to be global Christians. They believe deeply in cross-cultural education, and they're helping us involve more students in overseas study."
The Gobles both graduated from Westmont in 1981, and their two children, Rachel Goble '05 and Jedd Goble '14, also earned degrees at the college. Roy's sister, Adria Goble Weinstein '70, went to Westmont as well. Roy and D'Aun co-led the Parents Council for several years, and Roy has served as a college trustee since 2003.
"We're highly engaged in various global endeavors, and everywhere I go, I run across Westmont students who are doing amazing things," Roy says. "If we give Westmont an extra impetus in engaging at the global level, it's unimaginable what our students might accomplish in the future. We want them to grow and thrive in an increasingly globalized world."
"We've seen the way students benefit from some kind of global endeavor," D'Aun says. "Study abroad provides a transformational experience at a transformational time in life."
Roy travelled throughout Europe one summer with a Westmont professor and vanload of fellow students. "We stayed in homes, went into the Eastern Block and encountered difficult cultures along the way," he says. "It was a great learning opportunity."
Rachel spent a semester in Australia, and Jedd studied at Westmont in San Francisco, so the family understands firsthand the value of off-campus study.
The Goble Center will expand Westmont's off-campus programs, implement the college's unique Cycle of Global Learning, and encourage all students to benefit from study abroad and cross-cultural experiences. New overseas semesters include Westmont in Istanbul and the latest, Westmont in East Asia, which launches in fall 2016.
Roy and D'Aun work with a family business, Goble Properties, which invests in commercial real estate. D'Aun pursues her passion for farming by producing D'Oliva extra-virgin olive oil from olives grown on their 120-acre ranch in Northern California.
Rachel established and directs The SOLD Project to fight human trafficking, and Jedd works as a freelance mobile app developer.
The Gobles have long supported educational programs. Most recently, they've established Pathlight International in Belize, which sponsors high school students and provides financial, academic, personal and spiritual support. The ministry also trains teachers in Belize through workshops, mentoring and annual Teacher Training Conferences and organizes short-term projects benefiting at-risk youth.