Degrees & Programs Education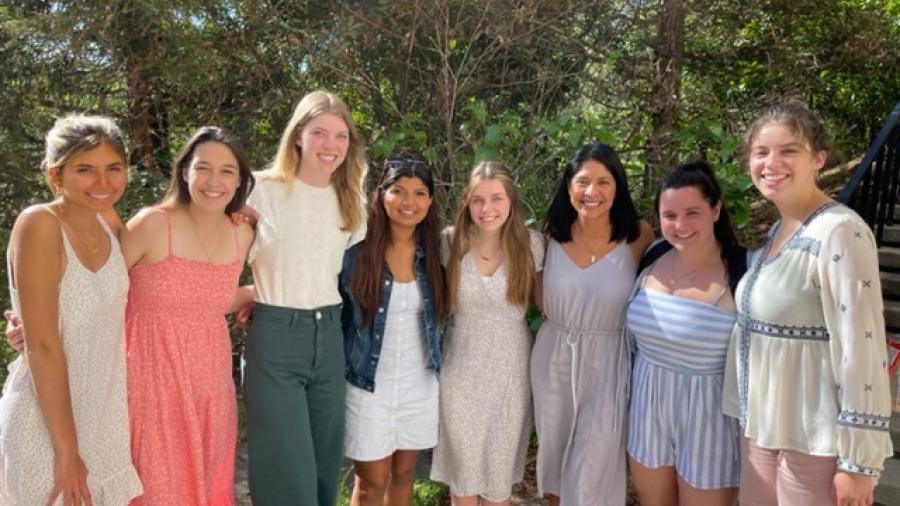 Mission of the Department of Education
Westmont's Department of Education provides a supportive collegial community in which to acquire a rigorous, practical, and professional preparation for K-12 teaching.  Building on teacher-candidates' liberal arts education, our program is designed to develop exemplary instructional skills, habits of reflection, and moral and cultural sensitivities that promote lifelong learning of diverse students.  
Follow us on Instagram @westmont_education
---
Teacher Credential Program
Become a knowledgeable, caring, Christian educator through our rigorous, highly practical and professional program. You'll learn from full-time professors with K-12 experience as you develop essential skills and attitudes to succeed as a teacher. Westmont's stellar reputation opens doors for you to observe, teach, and invest in diverse schools. You enter our professional program with a collegial cohort, taking classes in the fall semester and student teaching in the spring. 
---
Elementary Education
If you desire to teach elementary school, begin by earning a college degree. At Westmont, the Liberal Studies major is a great choice as it helps you develop expertise in all subjects normally taught in the elementary classroom and prepares you for the CSET (subject-matter exams) required for entrance into a California Teacher Credential Program.
With careful planning and hard work, you may be able to complete both the Liberal Studies major and a Multiple Subject Teaching Credential in four years on our fast track plan. 
---
Secondary Education
If you desire to teach junior high or high school, begin by earning a college degree in the subject you want to teach.
Westmont offers Single Subject Teaching Credentials in the following areas: 
Art
English
History/Social Science
Mathematics
Music
Physical Education/Kinesiology
Science (General, Biology, Chemistry, Physics)
Spanish.
Towards the end of your undergraduate studies, take the CSET (subject-matter exams) in the subject you wish to teach as evidence of strong content knowledge. With careful planning, hard work, and counsel from your academic advisor and Education Department advisor, you may be able to complete both a BA degree and a Single Subject Teaching Credential in four years.
---
Education Minor
The Education Minor is for students majoring in disciplines outside of the Liberal Studies major (art, English, history/social science, physical education/kinesiology, mathematics, science—biology, chemistry, and physics—and Spanish) that are interested in K-12 education and/or are considering pursuing a teaching credential for junior high or high school. The Education Minor includes all of the prerequisite courses for Westmont's Credential Program. Please contact the Education Faculty for advising and next steps.
ED 100/101 Explorations in Teaching (4)
ED 160/161 Technology in the Classroom (2)
ED 105 Cultural Diversity (4)
ENG 106 Language Acquisition (4)
KNS 156 Health in the Classroom (2)
ED 130 Special Education in the Classroom (2)
Elective upper-division course approved by the Education Department Chair (2-4)
*It is important to note that a minor would not apply to Liberal Studies or Music Education Majors
Westmont Magazine & Horizon Stories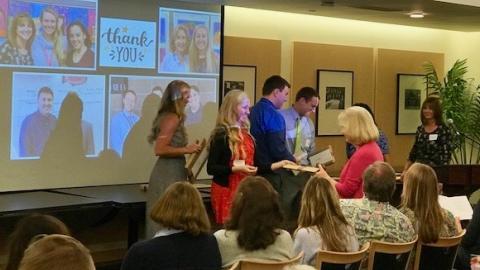 Celebration of Teaching
Each spring, Westmont welcomes over 100 local teachers and student teachers to campus to celebrate the impact that teachers make each day on students' lives.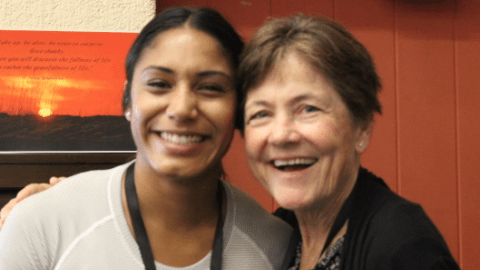 Professor and alum speak at Leadership Conference
Professor Jane Wilson and Veronica Gines '16 present at the annual Santa Barbara School District's Leadership Mindset Conference.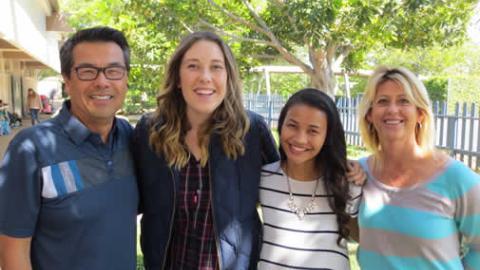 Local Cooperating Teachers receive Excellence in Education Award
Westmont's Education Department awards an annual Excellence in Education award to an outstanding educator.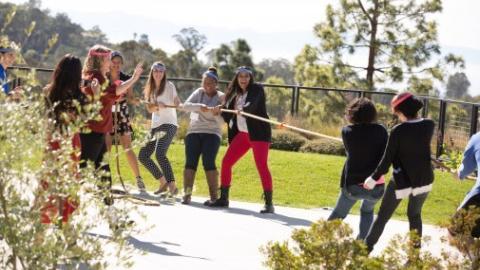 Let's Talk Teaching
Student teachers promote the teaching profession by connecting with students alternate years by visiting a local high school education academy or inviting high school students to campus for a "Let's Talk Teaching" conference.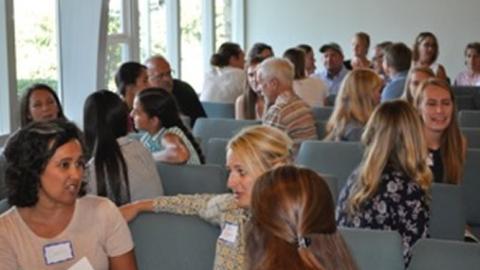 Educator Connections
Each fall the Education Department gathers public and private school teachers for a community gathering. Local teachers offer words of encouragement and inspiration to one another.
Career Paths
Graduates teach in a variety of K – 12 classroom settings from public to private, and many teach in international schools. After several years teaching in the field, graduates often pursue educational administration, school counseling, or even add an additional credential.
Alumni speak highly of teaching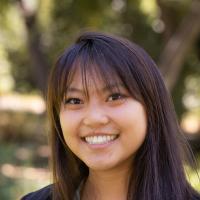 Allison Judy '19, Chemistry
One thing I really loved about getting my credential at Westmont was the personal and in-depth feedback I received from professors. The professors are incredibly caring and dedicated, so I had constant access to individual meetings and observations with specific feedback that was founded on positive relationships and knowledge of my personal growth and struggles over the year of the program. Teaching is the best thing I've ever done! At no other time in my life have I felt so fulfilled and happy. It's an enormous challenge that is different every day.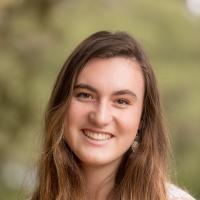 Hannah Krieshok '18
"Teaching is the best thing I've ever done! At no other time in my life have I felt so fulfilled and happy. It's an enormous challenge that is different every day, but I've had so many experiences that make it worthwhile a million times over."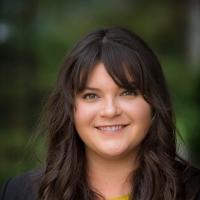 Alison Mendoza '18
"While teaching Spanish I get to engage students in conversations about their world and help them find their place in the world."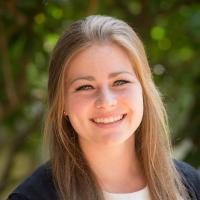 Miranda Wittrock '17
"As a math teacher, I enjoy shaping students' problem solving skills and giving them hope that every problem has a solution."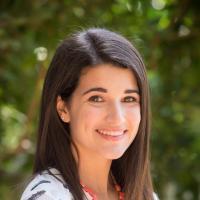 Rachel La Commare '17
"As a music educator, I help students expressively create and convey messages to audiences that are uniquely and purposely their own."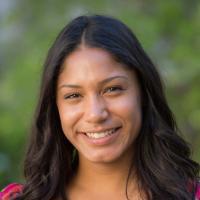 Veronica Gines '16
"I love teaching Health and PE to give students tools and knowledge to live balanced, happy and healthy lives."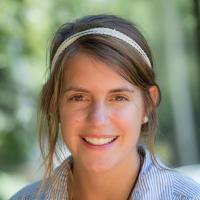 Samantha (Merrill) Limkeman '15
"Being an art educator means teaching innovation and visual self-expression and watching students grow in confidence and creativity."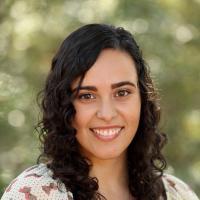 Ema Diaz (Gonzales '12) Ethrington
"Though I love teaching history, even more I love guiding students in academic, physical, or emotional situations."
Alumni Receive Awards
Christina Pena Eckert '17 received the 2021 Distinguished New Educator Award in Santa Barbara County and was honored at Santa Barbara's Salute to Teachers event in November 2021. Christina teaches Spanish and AVID at Carpinteria Middle School. 
Emily Hagen '14 received the 2017 Support Employee of the Year for her work as an Intervention Specialist at Theodore Judah Elementary School. 
Katie Curry '13 received the 2014 Santa Barbara County Young Educator of the Year award.
Ema Diaz Edrington '12 received the 2015 Carpinteria Educator of the Year for her work at an alternative high school.
Alana Woodin '10 received Orange Cove's Community 2017 Educator of the Year Award, Westmont Education Department's 2018 Excellence in Education Award, and Westmont's 2018 Young Alumni of the Year for her work with AVID students. 
Kendra Yancey '10 received the 2018 Capistrano Valley High School "Teachers are Heroes" award.
Mike Lynch '09, Dos Pueblos High School science teacher, was honored at Westmont's 85th Anniversary Gala in October 2022. Mike was honored as an outstanding alumnae for his contributions to education.