Student Led Ministries Urban Initiative
Urban Initiative is dedicated to developing a Christ-centered heart for urban engagement at Westmont by raising awareness about urban issues and mobilizing students in thoughtful response.
Weekly Opportunities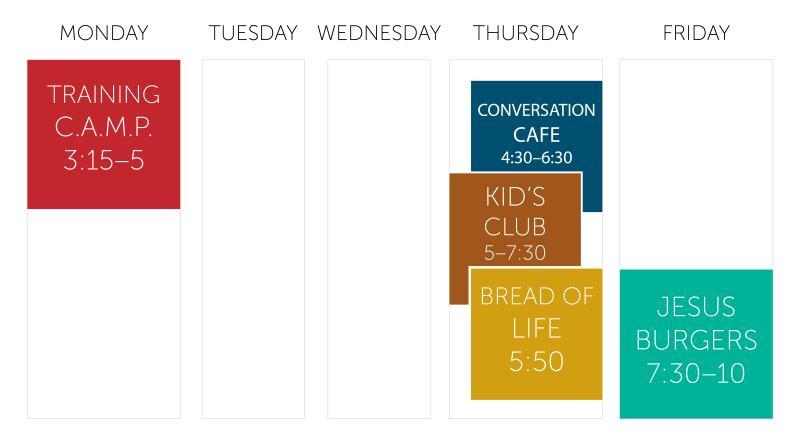 Short-Term Immersion Trips
SPRING BREAK IN THE CITY 2020. 
Registration is currently closed.
Santa Barbara: Spring Break in the CityREGISTER HERE 
Venture off the hill and into the city of Santa Barbara to encounter our city more deeply than you'd ever expect. Get to know the marginalized communities that coexist on the East and West Side, engage with the community of homeless men and women in town, and witness how Christ is working to unify our city through the people and ministries throughout Santa Barbara.
Themes: Marginalized Communities, Poverty & Homelessness, Human Trafficking, At-Risk Youth, Vibrant Subcultures, Government and non-profit collaboration
Salt Lake City: Spring Break in the CityREGISTER HERE 
Journey to Salt Lake City to engage in interfaith dialogue with members of the LDS community, to witness the beauty of God's creation in two national parks, and to gain a deeper understanding of how to communicate across different beliefs. This experience is unique from our other trips - you won't want to miss out!
Themes: Interfaith Dialogue, Mormonism, National Parks, Temple Square, College students, Reconciliation, Understanding
San Francisco: Spring Break in the CityREGISTER HERE 
Join Urban Initiative in the infamous city of San Francisco to encounter both broken and beautiful aspects of the city. Experience the Tenderloin, Market Street, and Haight Ashbury districts, coming alongside those that serve the people of San Francisco, while learning about poverty, homelessness, trafficking, and God's redemption of it all.
Themes: Tenderloin, Trafficking, Market Street, Children in Crisis, Homelessness, Haight Ashbury, Addiction
Los Angeles: Spring Break in the CityREGISTER HERE
Immerse yourself in the diversity of the city of Los Angeles. Learn about homelessness on Skid Row, opportunities for formerly gang-involved men and women at Homeboy Industries, the work of Christ through various ministries throughout the city, and the unique complexities that come with living out the Gospel in a multicultural urban setting.
Themes: Skid Row, Homelessness, Former gang member rehabilitation, Cultural neighborhoods, Shalom
FALL BREAK AWAY | OCT 4-7, 2019
Registration is now closed. Join us next year!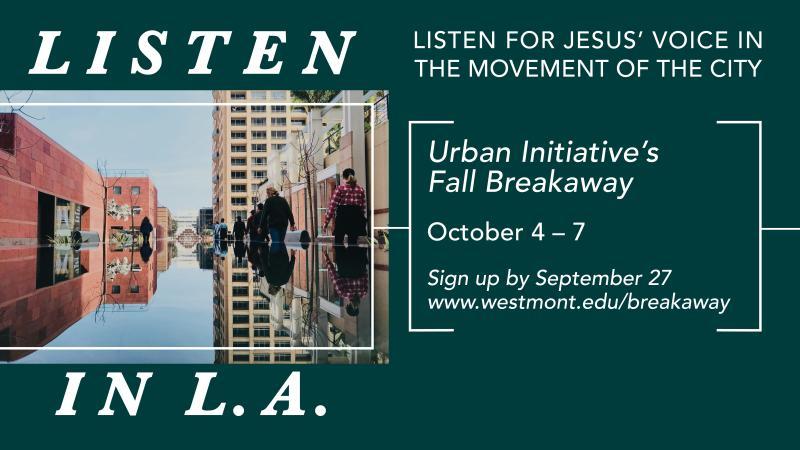 Support Urban Initiative
This organization is funded solely through the generosity of people like you. If you would like to support Urban Initiative, please click on the button below and select "Urban Initiative " when prompted.
Send a Valentine Gift
Pre-order flowers and/or chocolates for Valentine's Day through "Operation Valentine". Place a secure online order form by clicking button below. All proceeds will go to support the ministry of the Urban Initiative. Last day to order is Monday Feb 11th. Orders will be delivered on Feb 14th.
Urban Initiative Information
Core Leadership Team
2019-2020 Core leadership TEAM
| | |
| --- | --- |
| UI Director | Kayla Petersen |
| UI Business Manager | Jenna Skiff |
| UI Publicity & Travel Coordinator | Winston Gee |
| UI Local Coordinator | Lizzy Green |
| UI Education & Outreach Coordinator | Maddie Weicht |
| Staff Director | Rebecca Boa |
Contact
OFFICE HOURS
 
We look forward to meeting with you! Please email us if you would like to stop by during office hours.
The Urban Initiative office is located on the 2nd floor of the Kerr Student Center (KSC)
CONTACT US
Urban Initiative Core Leadership Team  
Phone: 805-565-6800 (office)
Email: urban_initiative@westmont.edu
Staff Director:
Rebecca Boa
Assistant Director of Campus Life for Ministry & Outreach
Email: rboa@westmont.edu